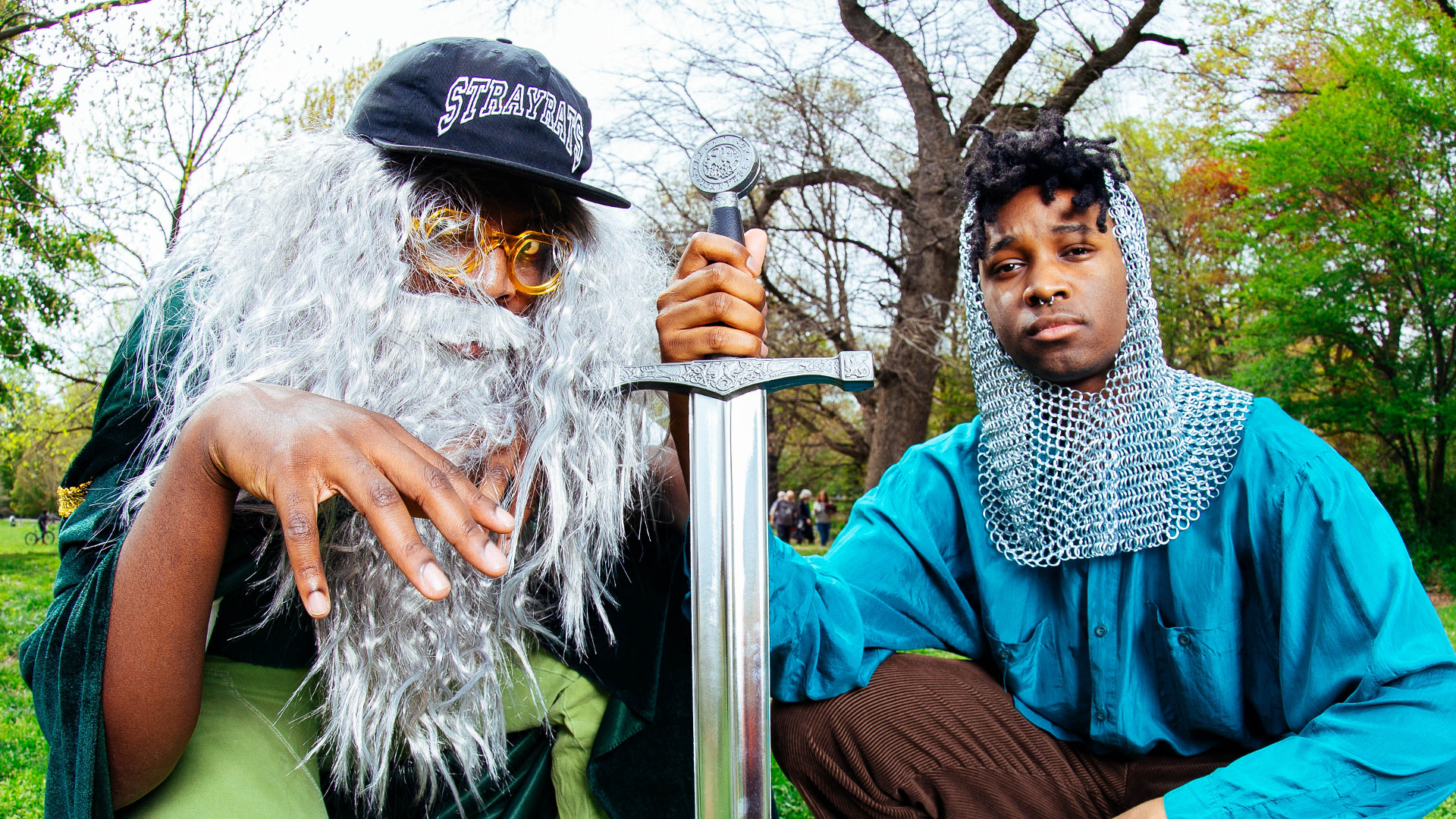 Hear ye, hear ye! E-garage music makers Catdog have just dropped their highly collaborative new EP, Excelsior!.
Inspired by the likes of PC Music and Drain Gang, the Toronto/New York duo brings together witty bars and energetic beats to create an "eclectic mix of friendship, 808s, video games, and the Internet," according to Fūnk-é Joseph, one half of Catdog.

"On the beats, I just wanted to make our version of Garage, heavily influenced by the internet," explains Catdog beatmaker J-Max Jarrett. "I've always wanted to hear a '90s palette with a futuristic style, and I had so much fun in my bedroom during the peak pandemic coming up with some 'e-garage' beats. I put together some sturdy drum patterns with unexpected rhythms, and Fūnk-é spits some crazy bars on top. With a track like 'Vibe' we're organically bringing back the MC + producer energy, and I think you can really feel the spirit of that with Excelsior!."
With the project being so Internet-based, the duo was able to secure a variety of features from their community of international friends—including NUMBERS and Harrison from Toronto, Atlanta's Meltycanon, L.A. popstar in the making Peytie, and many, many more. 
"Honestly, I've wanted to work with all of my pals on something big, and we've done it in the past with our Country Club EP, but this time we are doing it in 2022. Mega Internet vibes," Joseph laments. "We've learned a lot since we started making tracks together, and Excelsior! is a showcase of that. I used to spit some dumb bars off my half-broken earphones on my friend's computer, but now I have my own set up (and equally silly bars). With Excelsior!, it's been so amazing to collab with our friends and musical role models on something that feels simultaneously fresh and eternal."
For Catdog, the Internet isn't just a tool for collaboration—it also bleeds into the music itself. For Jarrett, the ongoing flood of content has become a core part of the songwriting process. "We're being surrounded by quirky, silly things online and we try to imbue that into everything we make. Whether it's a sample from a Vine from years ago or a soundbyte from a movie, it's stuff we've absorbed from being on the Internet, and we're trying to emulate that in Excelsior!" 
Stream Excelsior! below: