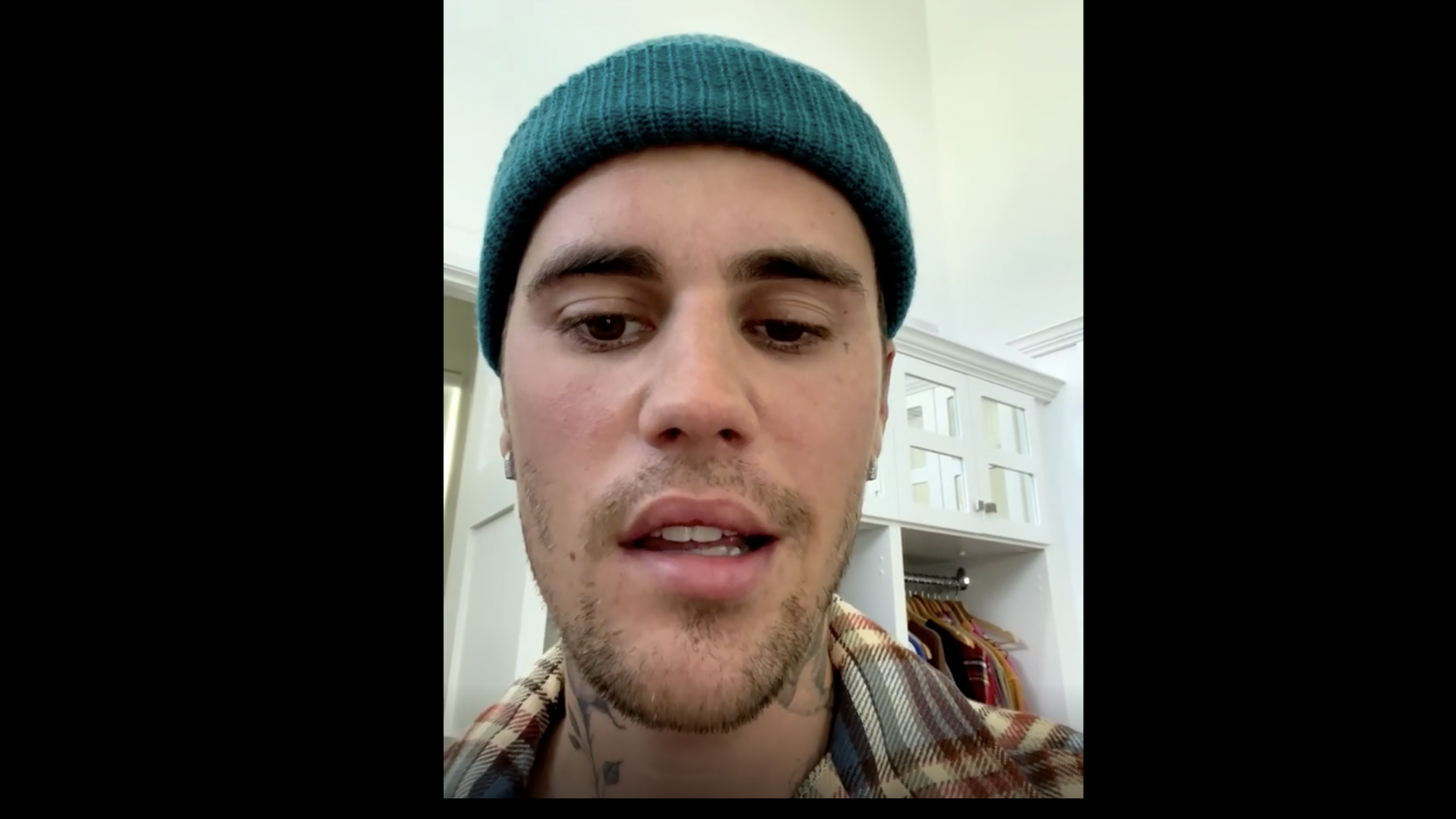 Justin Bieber is asking fans for their prayers.
The 28-year-old singer took to Instagram on Friday to reveal he has been diagnosed with Ramsay Hunt syndrome, a rare neurological disorder that can cause facial paralysis. Bieber shared the news just days after he was forced to postpone a number of tour dates, citing health concerns.
"It is from this virus that attacks the nerve in my ear—my facial nerves—and has caused by face to have paralysis," he said in a nearly three-minute video.
Bieber pointed out that the right side of his face was unable to move, as he could only smile and blink on the left side.
"So for those who are frustrated by my cancelations of the next shows, I'm just physically, obviously, not capable of doing them," he continued. "This is pretty serious, as you can see. I wish this wasn't the case, but, obviously, my body is telling me I gotta slow down."
Bieber went on to say that he would now spend his time resting so he can get back to doing "what I was born to do." He also reassured fans that his face would "go back to normal," and that he's been doing facial exercises during the recovery process.
"I'm gonna get better […] We don't know how much time it's gonna be, but it's gonna be OK. And I have hope, and I trust God, and I trust that this is all for a reason; not sure what that is right now, but in the meantime, I'm gonna rest. I love you guys."
You can hear Bieber's full message below.
According to the Mayo Clinic, RHS is a complication from the varicella-zoster virus, the same virus that causes shingles and chickenpox. Symptoms include rashes around the face, hearing loss, as well as one-sided facial paralysis. Though RHS can cause permanent nerve damage, it typically takes about three weeks to fully recover. The condition is mostly seen in adults over 60, and is rarely experienced by children.
In 2020, Bieber revealed he had been diagnosed with Lyme disease as well as "a serious case of chronic mono." His wife, Hailey Bieber, defended the singer against online trolls who didn't take the diagnosis seriously.
"For those who are trying to downplay the severity of Lyme disease. Please do your research and listen to the stories of people who have suffered with it for years," Hailey tweeted. "Making fun of and belittling a disease you don't understand is never the way, all it takes is educating yourself."