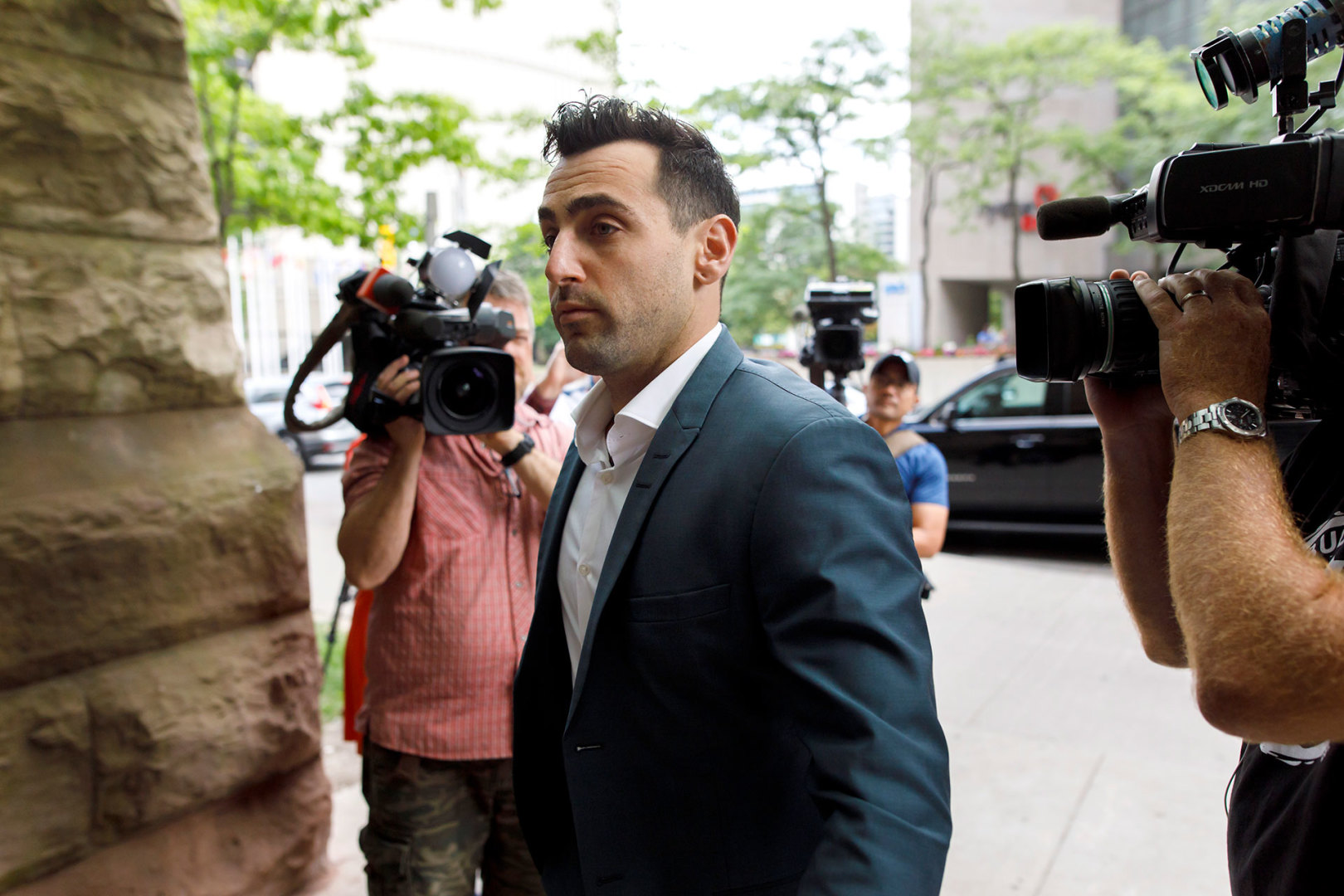 After long deliberation, former Hedley singer Jacob Hoggard was found guilty of sexual assault causing bodily harm against one of two complainants. 
The 37-year-old originally plead not guilty to two counts of sexual assault, and one count of sexual interference—an offence referring to sexually touching someone under 16. 
Hoggard was found guilty of one count of sexual assault causing bodily harm against an Ottawa woman in fall of 2016. It took over 40 hours of deliberation for the jury to reach a verdict before returning with a decision on Sunday. 
Hoggard was acquitted of the same charge, plus a count of sexual interference—stemming from an allegation that Hoggard had groped the younger complainant after a Hedley concert in April 2016, when she was 15. 
Crown attorney Jill Witkin detailed Hoggard's crime as "brazen, brutal, degrading, traumatic," and requested the judge revoke his bail until his sentencing. 
Ontario Superior Court Justice Gillian Roberts denied the Crown's request, but has enforced stricter bail conditions, stating that she believes these conditions can limit the risk of Hoggard fleeing, as well as "the current strong public interest in accountability." 
Under the new conditions, Hoggard must reside in his Vancouver home, or another pre-approved address, and be placed on curfew between the hours of 10 p.m. and 6 a.m.—except in the case of emergencies or approved commitments. 
He is also not allowed to leave British Columbia—with exceptions for court appearances in Toronto—and must submit to regular check-ins, and random compliance checks. 
Hoggard's wife, who pledged $200,000 for his bail, will act as one of two sureties to monitor his compliance. 
Justice Gillian Roberts said Hoggard will likely face a prison sentence, which will result in more than two years behind bars. 
Hoggard is now facing a new count of sexual assault causing bodily harm, related to an alleged incident involving a third complainant in Kirkland Lake, Ontario in June 2016. 
Hoggard is scheduled to appear in court for the latest charge on August 4.